Posted on:
Utah State Math Competition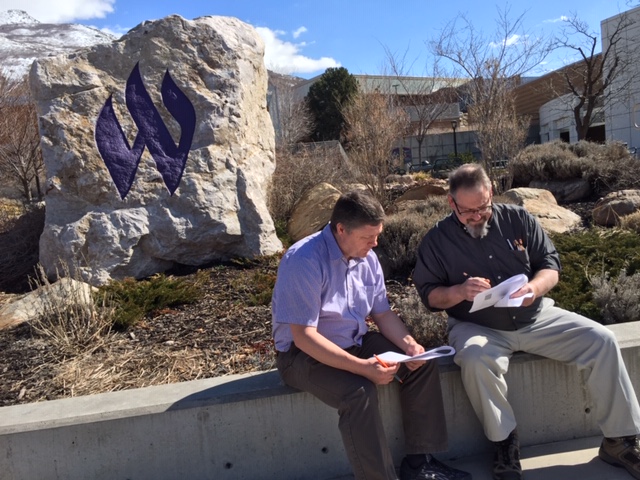 In the weeks running-up to the State of Utah Mathematics Competition on March 4th, Eva Carlston teacher Paul Guillory had many creative ways to warm up the eight students that were taking part each day. He'd play them the five-minute audio from one of NPR's weekly Sunday Puzzles and have them try to figure it out or he'd do a logic puzzle with them. The aim was always the same: Encourage abstract and creative thinking.

High School Math Competition
"I want to bring more than just math into the classroom," Paul says. "Real world problems are not one dimensional. So it's not just about the math.
There's a need to pull other knowledge into the classroom and use everything our students have to solve a puzzle."

Our students got to test their problem-solving abilities March 4th, competing against 1,000 students drawn from 7th to 12th graders from across the Wasatch Front. They had to demonstrate their knowledge of multiple subjects, including geometry, algebra and probability. Older students taking the senior level exam also had to take calculus and trigonometry tests. But whatever the age, the common factor was no one could use a calculator.

Math teachers Layne Southam and Paul Guillory selected eight girls to participate in the three-hour plus exam that took place at Weber State University, 33 miles north of Salt Lake City. While some of the eight students were excited by the mathematical challenges they faced, the teachers also had to address the natural anxiety students felt.

To alleviate some of that anxiety Layne prepared the girls for what was to come. "Sometimes there are things just beyond what we can do and we have to learn to work with that." Layne coached the girls to use their coping skills and other self-management methods to help them have the confidence to overcome stressful moments in the competition.

In the run up to the contest Layne met with each of the eight girls one-on-one and gave them practice tests so they would have a feel for the kind of questions they would face. He also helped them develop "strategies and realistic expectations."

Equation Solvers
Each student needs to understand what they are capable of and develop expectations for themselves, he says. "I told them it was going to be hard as the test doesn't discriminate between those that are just starting out in algebra with those that are taking AP calculus. When I was prepping with the students I made sure that some of the questions were straight forward but I always gave them some that were worded differently so that they would have to understand the math of what was going on behind the question."

Layne's final advice to the girls was to do their best. "Keep anxiety in the right place and you will get the best results. If you let anxiety get out of control then your results will be diminished."

The test began at 9:30 and ended at noon. The teachers told the students they could leave after an hour or stay longer if they wished. There were 40 questions in all. "If you can answer 15 question you are doing great," Layne told them.

Three worked on the test for an hour, with another four trickling out shortly after. One girl, however, remained in her seat, answering as many questions as possible, before she left at 11:40. "She deserves a lot of credit for not giving up," says Paul.
Both Paul and Layne were proud of how the students all proved exceptional ambassadors for Eva Carlston. "They were composed and exemplary and showed how responsible they are," says Layne.

On the drive home, the overall mood was one of relief. Even though the girls were competing with the other schools, it was a tough test and they were happy to celebrate its completion with an enjoyable lunch.

"Participating in the test," Paul says, "was a very positive experience for everyone." It was a learning experience for teachers and students, even though it was hard. "Perhaps it will wake up some of the students to realize there is always a lot more out there to learn." Real-life opportunities such as this help students make connections between the work they are doing at Eva Carlston and the real world.
Call: 801-449-0089
Address: 4943 S Wasatch Boulevard, Salt Lake City, Utah 84124