Posted on:
Academic Collaboration
At Eva Carlston, we have found collaboration between different program departments, typically milieu, clinical, and academic, to be a consistent area of development. While every organization strives for cooperation and equity amongst teams, it is not uncommon for teachers to feel as though they are the "black sheep," or an outsider when it comes to the comprehensive treatment of complex and even life threatening mental health issues experienced by their students.

We have found success in the inclusion of academics through the use of administrative direction, program procedures, and cross-departmental training. Attention to these three areas has resulted in continuous improvement in not only the professionalism and value of our academic department, but most important of all, positive outcomes and improvements for students.

Cross-departmental training at Eva Carlston consists of each department training the others in their areas of expertise. Examples of trainings that the academic team has presented to their colleagues include:

Special Education Accommodation training for milieu staff. This helped our direct care staff understand how to break down instructions for students with processing deficits or obtain oral clarification of instructions to ensure understanding.
"It's important to me that the direct care staff have the all training necessary to help our girls, and the academic team brings a different level of expertise that really benefits the direct care staff." Shelly, Program Director

Learning Styles Training for therapists. In this training the therapists learned how to incorporate social, kinesthetic, visual, auditory, and other teaching strategies to improve group, individual, and family work with their students. They may have also learned to speak French and the capitals of foreign countries.
"I enjoyed my time with teachers and learning about how they individually interact with students, as well as being able to see their investment in our student's academic lives. The collaborative approach is important in that it allows us to work together as a team to really set our students up for success. The teachers have such a different perspective of students than a therapeutic or milieu perspective and I really appreciate their perspective so that we have a well-rounded approach to working with students." Krista, therapist

These training opportunities have helped the academic team feel valued and included in the big picture of residential treatment.

"I hope that the therapists will move forward using more varying learning styles to get through to the girls. I think that using different communication and teaching styles could help the girls access and process their therapy more deeply and permanently." Laura, English Teacher

"I don't expect that the therapists will "plan" a therapy session activity in the manner that the teachers demonstrated, but I do believe they took away an appreciation for how to tailor a message to a student based on her learning style." Paul, Math Teacher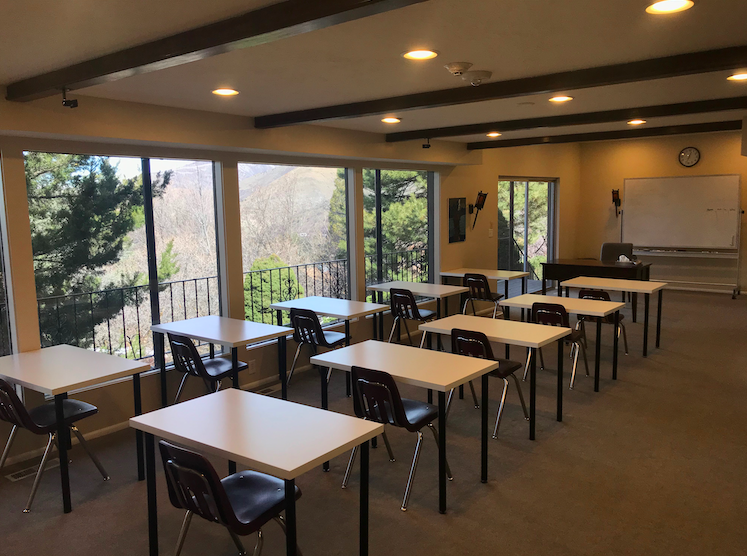 Additionally, the academic team has been trained by other departments in youth safety, suicide prevention, anxiety, and other relevant topics.

Program policies and procedures need to include consideration for the academic department to create a sense of inclusion and further a continued focus on treating the whole student. While significant academic issues may fluctuate throughout the course of treatment for a student, Eva Carlston requires the input and even "sign off" from the academic department on many programmatic elements such as advancing in the program or graduation readiness, transition plans, home visit length and frequency, extracurricular activities, and even youth spending allowance. Acknowledging the academic department as a valid and even required participant in treatment decisions results in more thoughtful and intentional treatment planning, and a sense of ownership amongst educators.

The final piece is of the puzzle is administrative direction or guidance. The administration of any organization sets the pace and direction for the company as a whole. Eva Carlston's leadership uses language and models that emphasize collaboration and input from all departments, including academic. Effort is made by leadership to attend faculty meetings, plan interdepartmental socials, and facilitate frequent communication opportunities necessary to be consistent and effective. When the Executive Director says "I want to hear what the teachers think," or "the academic team is recommending that we hold off for now," it communicates a clear message to everyone that the faculty has not only a place in residential treatment, but that they also have the professional expertise to contribute in a meaningful way.

Partnership requires ongoing effort. The ideal level of cross-departmental "zen" is not a destination, but the target we aim for. Eva Carlston has found that when we are starting to stray or are experiencing dysfunction between our teams, we can go back to these fundamental areas: cross-departmental training, program procedures, and administrative direction. This helps keep our eye on the target and results in better outcomes for students.

Call: 801-449-0089
Address: 4943 S Wasatch Boulevard, Salt Lake City, Utah 84124