Healing Through Psychotherapy
Therapy
Robust psychotherapy in a real-life context.
Students come to Eva Carlston with a wide range of emotional and behavioral issues. Our students may have experienced devastating trauma, clinical depression, loss, anxiety, or personality disorders. Many "act in" by retreating, avoiding, and isolating, while others may "act out" through defiance, promiscuity, or substance abuse. But regardless of her struggles, every Eva Carlston student is capable of healing and thriving with the right support.
We offer that support in the form of a robust program of individual, group, and family therapy led by seasoned, licensed therapists. Our treatment approach is gender-specific, using the best, research-validated approaches for supporting women's mental health. To support and accelerate this work, we incorporate therapeutic elements into every aspect of our student's lives. Our urban location, art therapy, recreation therapy, family meetings, and Lifestyle-Therapy approach, all give girls a living environment that supports progress made in treatment.
Our goal for each girl is that her healing process leads to the discovery of her place, her passion, and her purpose in life. These are the things that will sustain healing and growth for a lifetime.
Specific clinical approaches and modalities are described below.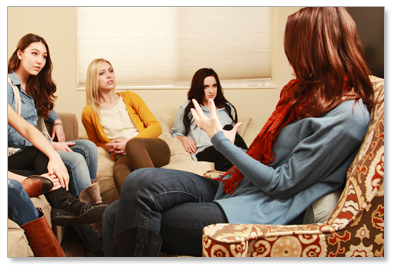 Milieu-Based Therapeutic Modality
This modality is a powerful, evidence-based approach to promoting pro-social behavior and improving long-term outcomes in residential treatment settings. This approach requires that all staff—especially the house staff or "Youth Mentors"—are trained to support a coordinated effort to teach and reinforce positive behaviors and social interactions. Because this coaching takes place in a systematic way in the girls' day-to-day routine (milieu) and in real time, it helps girls respond more naturally to real-life situations as they arise. This helps them transfer new, pro-social skills to life after treatment. This approach is an important component of our lifestyle therapy model.
Individual Therapy
Every student is assigned to a licensed psychotherapist who serves as that girl's case manager and dedicated therapist. Girls receive a minimum of two hours of individual therapy per week based on a clear treatment plan that the girl herself is involved in articulating. Individual therapy helps students discover new ways to understand their difficulties and develop new skills for successfully addressing those difficulties. Youth learn about themselves and explore ways to meet their emotional needs, set and achieve future goals, and grow as young women. This process helps them develop and maintain healthy relational skills that will transfer to life after treatment.
Family Therapy
The family is our most fundamental communities, regardless of it's form, traditions, or health. Because of the family's role in shaping our basic relational patterns, it can also be the key to effective therapy and individual healing. All Eva Carlston families participate with their daughter in weekly family-therapy sessions. Family therapy helps the student, and all family members, learn effective ways to interact, resolve conflicts, and heal. As a strengths-based treatment program, we help identify the family's intrinsic strengths and the positive assets that each member can contribute to the health of the family system. This approach helps support change not only during treatment, but once the child returns home.
All family members are encouraged to take responsibility for their role in familial problems as well as their resolution. To meet the needs of our families, therapy can occur in a variety of forums including conference calls, in-person sessions, family seminars, multi-family groups, and Skype conferencing.
Recreational Activities
At Eva Carlston Academy, we believe that our long-term mental health is well served by knowing how to have fun! Our therapists, teachers, and home teachers are selected, in part, for their ability to model a passionate, engaged approach to life.
Many of our girls have limited or restricted their involvement in activities because of negative life experiences or emotional and social difficulties. Our team provides opportunities, challenges, and mentorship to help girls overcome these restrictions so that they can discover their own preferences and passions.
We utilize a wide-range of clinically validated interventions to help students try new activities, develop new skills, get involved in their community, and increase problem-solving skills and independence. Recreational activities also help build confidence and self-esteem, and provides opportunities to practice stress-reduction techniques and pro-social skills. Activities at Eva Carlston Academy include:
Sports
Art
Crafts
Dance
Interaction with animals
Music
Games
Skiing
Volunteer work
Community Outings
Group Therapy
During adolescence, peers have a profound influence on each other—often eclipsing the influence of parents, teachers, and other adults. It is a critical developmental task for adolescents to seek their identity and place in a peer group. This is the key to forming an adult identity and to gaining a sustainable sense of belonging. But many of our girls have failed to find their place socially and have resorted, instead, to withdrawal or to self-destructive and inauthentic ways of gaining peer approval.
Group therapy offers a unique opportunity for girls to find their place and their voice within a peer group. Along the way, they master skills such as communication, confrontation, tolerating differences, and compromise. Our students are encouraged to support one another despite possible differences, and to interact in a way that fosters mutual growth and healing.
During group therapy, girls learn leadership skills, acquire a sense of personal worth, and learn to sustain reliable and predictable relationships with other people. Our psychosocial and therapeutic groups are designed specifically for the needs of adolescent girls, and cover the following topics:
Art as Therapy
Mindfulness
Boundaries
Women's issues
Trauma
Independent living
Healthy living
Adoption
Sexual trauma
Addictions
Substance abuse
Peer support
Family meetings
Addictions & Substance Abuse
Traditionally, adolescent females have been placed in addiction programs designed for delinquent boys. These traditional approaches fail to account for the fact that females who engage in addictive behaviors are far more likely than boys to have struggled with victimization and/or self-esteem issues first. Eva Carlston Academy addresses the unique needs of adolescent females through well-researched, gender-specific addiction treatment.
Our addictions treatment emphasizes the importance of relationships to young women and the need for both assertiveness skills and female health education. We also know the importance of providing female role models to help inspire hope and model the qualities of a healthy woman, and we staff our program accordingly. Individual and family addiction counseling is also part of Eva Carlston's addiction-treatment program.
Students are assigned to the following groups as determined by their individualized treatment plan.
Addictions Group:
Addiction is not limited to substance abuse. Teens can struggle with a variety of addictive behaviors including self-harm, disordered eating, over exercising, internet misuse, gambling, unhealthy relationships, etc. The addictions group teaches about the process of addiction and how addictive behaviors interfere with and disrupt lives. Group members will learn to identify their addictive behaviors and thinking errors, and will master techniques to manage triggers. All members will develop their own relapse-prevention strategy.
Substance Abuse Group:
The earlier an individual begins using drugs, the more likely abuse and addiction will result. The substance abuse group provides accurate, fact-based information about the short-term and long-term health effects of substance abuse. Girls will investigate the physical, psychological and behavioral impact of substance use and gain an understanding of the progression of substance abuse as well as the relapse process. Each girl will identify her own obstacles to a drug-free life and will identify strategies to overcome those obstacles and maintain a healthy lifestyle. Girls develop their own relapse prevention plan at the completion of the group.
Gender and Sexuality
Adolescence is a complicated and delicate process of identity development and self-acceptance. Eva Carlston is committed to maintaining an environment of respect and inclusion as our students work through their own understanding, identity, and self-advocacy. Our team of professionals uses current best practices in our approach to addressing topics around gender and sexuality. Although our program was founded to serve female identified clients, our small and nurturing setting has also been effective with non-binary and questioning students.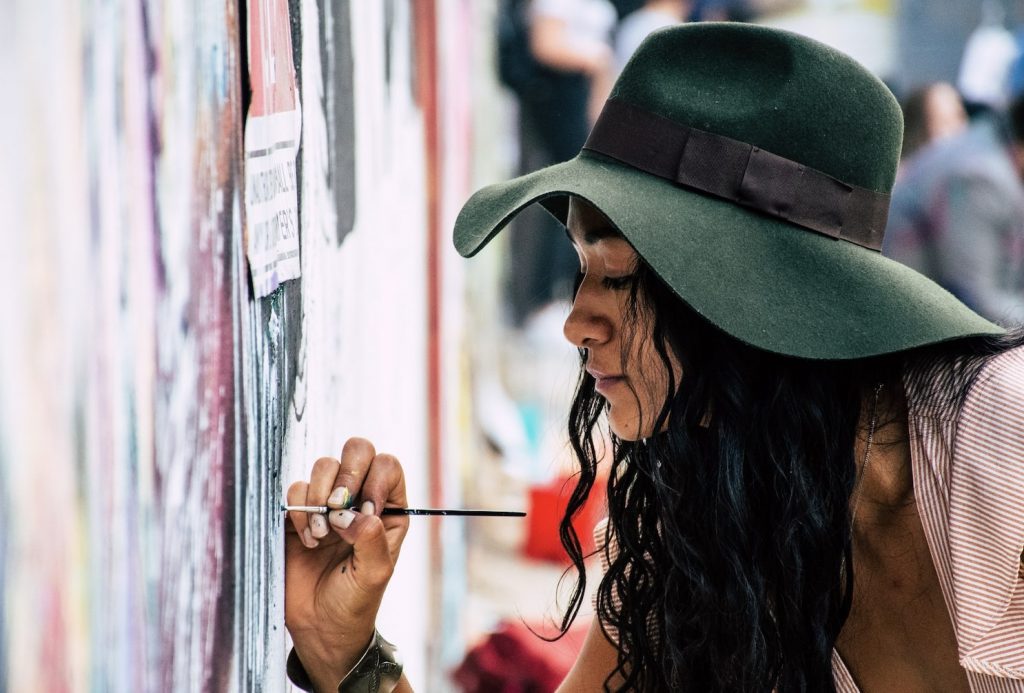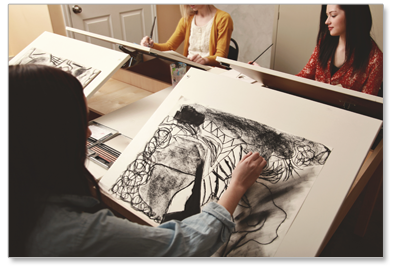 Parent Support and Coaching
We recognize that problems don't occur in a bubble, and the family is critical to the long-term success of our students. Research supports parent involvement in the treatment process, and Eva Carlston has our own parenting program designed to meet that need. When deemed appropriate by the treatment team, families are referred to the CORE Parenting Program where they learn strategies and receive support from a personal parenting coach. CORE stands for Customized Objectives and Realistic Expectations; which emphasizes our individual approach to helping parents meet their goals.
The Parent Coaches are highly trained and experienced treatment providers that develop customized parenting plans. Every family is different, and the CORE Parenting program is not a "one-size-fits-all" approach. This program provides direct instruction, well research and evidence-based curriculum, on-call support, and the parent coach will even travel with students to provide support in their home environment.
Call: 801-449-0089
Address: 4943 S Wasatch Boulevard, Salt Lake City, Utah 84124