Therapeutic Learning
Academics for Life
Equipping students with the confidence, skills, and knowledge to find their place in the world.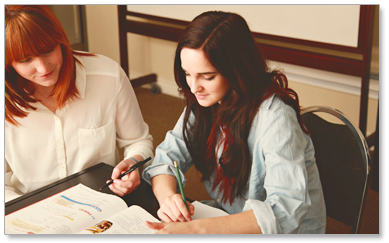 Academics should prepare students for a life of thoughtful and energetic contribution. At Eva Carlston, we help girls discover the unique set of intellectual strengths that will fuel those contributions. Our strengths-based approach to education helps girls discover and cultivate intellectual passions that will motivate future efforts, inform career choices, and optimize lifelong learning and success.
At the same time, our accredited academic program helps students develop a foundation of basic competence in all academic subjects and skills. Those skills include written and spoken communication, reading comprehension, mathematics, critical thinking, and—increasingly—the ability to function effectively as part of a team.
Whether academically gifted or academically challenged, we know that all of our students can become capable learners and contributors. We customize our education plan and approach to meet each student's needs and to produce confident, capable learners. Credits earned at Eva Carlston are fully accredited and transferable, and are appropriate for college admissions.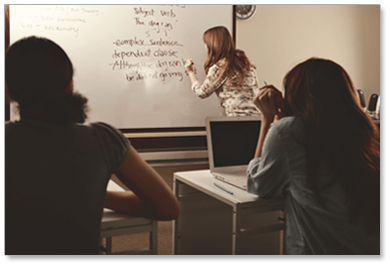 Curriculum and Instruction
All of our teachers are certified in their subject areas and incorporate appropriate, customized learning accommodations into their instruction. Using a combination of didactic, Socratic, group, and interactive-online instruction, we are able to customize instruction to meet the needs of each student—including the need to move more quickly or more slowly through material.
We use a variety of technologies and teaching modalities, which has been shown to improve motivation and help students take more responsibility for their own learning. We strive to help girls become critical thinkers, self-advocates (especially when learning differences are present), and enthusiastic lifelong learners.
Accreditation
Eva Carlston Academy's academic program is accredited through AdvancED and offers fully transferable credits and transcripts. Students who complete high school at Eva Carlston Academy receive a diploma from the State of Utah. Other students may transfer credits to their home high school for graduation from that institution. We work directly with the home school or school district to ensure that each student's academic program meets that school's graduation requirements.
College Preparation
Most Eva Carlston Academy students are college-bound. We provide opportunities for ACT and SAT preparation classes and all eleventh graders are encouraged to take both exams. In addition, our academic team assists with college entrance essays and applications.
Experiential Learning
Many of our students are, at heart, experiential learners, so we routinely take learning beyond the walls of the classroom and out into the real world. This includes monthly visits to Salt Lake art museums, operas, ballets, and cultural events. In addition, they participate in educational and adventure activities throughout the year.
Therapeutic Learning
The classroom provides an excellent therapeutic milieu for our girls. For some, the traditional classroom is a place full of triggers, where difficult social dynamics, unwelcome performance demands, or frustration has been the rule. For others, the classroom is a welcome opportunity to succeed in the midst of a life that may otherwise seem painful. Regardless of a student's past academic experiences, Eva Carlston has designed its school as a potent therapeutic milieu. It's a place where girls can overcome past fears, develop new areas of confidence, and practice skills learned in treatment. Our teachers and therapists work as a team to ensure that each girl's academic program supports her therapeutic goals and vice-versa.
Art Education and Electives
Eva Carlston Academy offers a wide variety of elective courses and a very strong fine-arts program. Art courses include drawing, sculpture, poetry, drama, photography, painting, and graphic design. In addition, students create a portfolio that represents their growth and transformation both creatively and therapeutically. These portfolios can be used for application to art programs or can simply serve as a powerful reminder of their experience while in treatment.
Call: 801-449-0089
Address: 4943 S Wasatch Boulevard, Salt Lake City, Utah 84124