Join The Eva Carlston Family
Admissions
Eva Carlston Academy has a selective admissions process to ensure that we are the right program for a given applicant. Our team will work closely with you through the admissions process to answer your questions and help you make the right decision.
For more information on admissions, please contact our admissions team at admissions@evacarlston.com. We look forward to hearing from you!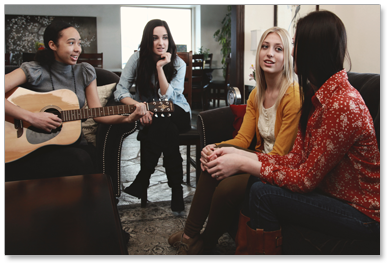 Student Profile
Eva Carlston serves adolescent girls between the ages of 12-18 whose potential has been impeded by emotional or behavioral difficulties. Our mission is to provide the treatment and support necessary to help these girls heal and find their place, their passion, and their purpose in life.
The following is a partial list of issues Eva Carlston Academy works effectively with:
Depression
Anxiety
Defiance & behavioral issues
ADHD
Learning issues
Emerging personality disorders
Self-harm
Addictions
Eating disorders
Suicidal ideation
Substance abuse
Autism spectrum disorder
Bipolar Disorder
Trauma
Low self esteem
Adoption and attachment issues
Emotional, physical, and sexual abuse
Eva Carlston has the medical staff to safely accommodate those with diabetes, special dietary restrictions, and other medical issues.
Call: 801-449-0089
Address: 4943 S Wasatch Boulevard, Salt Lake City, Utah 84124