Posted on:
My Daughter Hates Math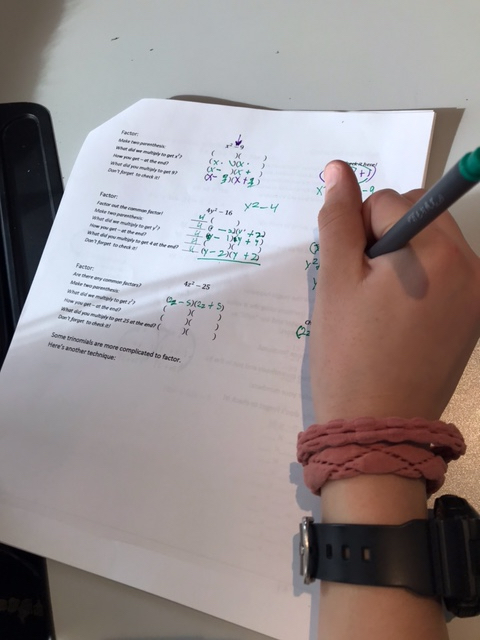 When we meet with parents for the first time it isn't uncommon for parents to express the concern "my daughter hates math." Math is arguably one of the most difficult subjects in school that many students, not just girls, struggle with. Being able to confidently solve equations and plot graphs is no easy feat.
At Eva Carlston Academy we've made it a point in our classrooms to provide an environment where all our students can become successful with everything they put their minds to.
Math With Confidence
"I don't agree with the statement, 'Girls are not good at math.' In my experience in teaching math, girls and boys have equal aptitudes to do high school math." – Paul Guillory, Math Teacher
At Eva Carlston Academy, it is our mission to ensure our students are all comfortable with every subject that we go over. In 2019, Women made up 26% of people in computer and mathematical occupations even though boy students and girl students test equally well in standardized tests.
Once a student makes that leap into becoming confident within themselves, that's when we know they have attained the skills to be successful in college, and adulthood.
Many things may stand in the way when becoming fearless in math but eventually, with the proper guidance and environment, it can change from challenging to doable.
Although some concepts of math may not have a direct correlation when it comes to the "outside world," it serves the greater purpose of students beginning to rise to the challenge. We want the students to say, "I will not let this defeat me."
We Can All Be Math Whizzes
Making students struggle is a very successful teaching technique called "productive struggle," the teacher doesn't necessarily want to give up the answer right away but would rather have the student think through it. This teaches them to problem solve and to not give up on what they may be working on.
It has shown through studies that there are no significant gender differences in academic performance, which is to be expected. What is interesting is the power of attitudes toward mathematics was clearly more significant in boys than in girls. Meaning, boy students were less likely to be affected by their test anxiety and feelings of inadequacy to math as the girl students, who placed math at a higher value.
Even though math class was structured around learning the fundamentals and skills of math, it also serves another purpose. As we start to approach upper-grade levels the math problems become increasingly more difficult. For example, when a student comes across a difficult problem that they don't know how to solve it teaches the student to use logic, analysis and become resilient.
Math may not be everyone's favorite subject but it teaches us confidence, hard work, and flexibility outside of the classroom. Here at Eva Carlston Academy that is the goal that we strive for. We want every student to not only be comfortable and confident inside the classroom but in the real world as well.
Call: 801-449-0089
Address: 4943 S Wasatch Boulevard, Salt Lake City, Utah 84124